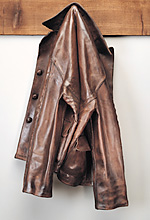 Peggy's Jacket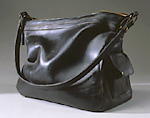 Stallone
2001
World Contemporary Ceramics

World Contemporary Ceramics, an exhibition of the works of 38 artists from 18 nations, was on display at the Ichon World Ceramic Center in the city of Ichon, South Korea. Curated by Sang-Ho Shin, Dean of the College of Art at Hong Ik University in Seoul, the exhibition opened August 10 and was on view through October 28, 2001.

Two of Levine's ceramic works, Peggy's Jacket and Stallone, pictured at left, were included in the exhibit. A 194 page catalogue with colorplates of the works in the show and texts by Chang-Yuel Lim, Jong-Min Kim, Sangho Shin and James Melchert was published to accompany the exhibition. This exhibition was one of many events, including symposiums, workshops and various other exhibitions, that were being sponsored by the World Ceramics Exposition 2001 Korea, also known as WOCEK.

In addition to her work being shown in the exhibition, Levine conducted a week long workshop in August at a special studio constructed on the Expo site.

Please visit the World Ceramic Exposition website for more information.
Archives
2004
2001