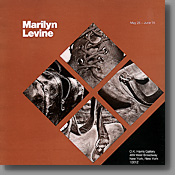 Exhibition announcement
OK Harris Works of Art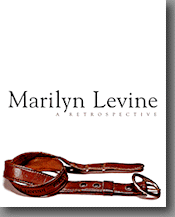 Retrospective
Exhibition Catalogue
Gallery Affiliation
OK Harris Works of Art
383 West Broadway
New York, NY 10012
Phone: (212) 431-3600
Fax: (212) 925-4797
Museum Resources
The Ruth Chandler Williamson Gallery Collection Catalog of the Scripps Colleges in Claremont, California provides online access to objects in the collection including work by Marilyn Levine. Select either the Portfolio Index option or select The Marer Collection from the Major Collections option.
The Canadian Clay and Glass Gallery, a national institution featuring contemporary clay, glass, stained glass and enamel art, displays works online including Levine's 1974 Laced Cup in the Indusmin Collection on loan from Unimin Canada Ltd. It is posted in the clay vessel section of the site.
Fire + Earth, an Exhibition of Contemporary Canadian Ceramic Art, is a digital virtual museum presented by the Burlington Art Centre of Canada and developed in partnership with the Itabashi Art Museum of Itabashi, Japan. It showcases works in QuicktimeVR and provides information about media and techniques. Levine is represented by six pieces, among them John's Mountie Boots, 1973; Two-Tone Bag, 1979-80 and Johan's Jacket, 1999.
Publications
Exhibition Catalogue
A 96 page fully illustrated exhibition catalogue of Levine's 1998 retrospective is available from the following sources:
OK Harris Works of Art
See address above
MacKenzie Art Gallery
3475 Albert Street
Regina, SK
Canada S4S 6X6
Phone: (306) 522-4242
Fax: (306) 569-8191
Canadian Clay & Glass Gallery
25 Caroline St. North
Waterloo, Ontario N2L 2Y5
Phone: (519) 746-1882
Fax: (519) 746-6396
Archives 2004
Galleries &
Resources